Stadium Signs – Going the Extra Mile

WHEN
Image Magazine first caught up with Stadium Signs, they were far from their 'home' in Melbourne's outer East, with founder Leigh Onions competing in the Alice Springs Mountain Bike Enduro and wife Pamela Hammond, daughter Natalie and son Ashley volunteering at the event.
Why? Because the event was run by a client and, as Pamela explained, "if you're going to ask people to give you their money, you have to take an interest in what they're doing. We are loyal to our clients, passionate about what they do – in fact, we're our client's greatest fans!"
As this example illustrates, Stadium Signs take 'commitment to the client' further than most and, catching up with Leigh and Pamela on their return, it seems the 'extra mile' is something of a mantra across all areas of their business.
Firstly, there's the diverse product range. The company's office in Ferntree Gully has several wrapped vehicles out the front and is dominated by a wall print of Formula 1 cars and drivers. In the factory, the top half of a giant cigarette packet is being carefully attached to the bottom for delivery to a Quit event later in the week, while a super-sized A-frame sits waiting for its printed cladding to become a target for footy handball competitions. Against the wall, there's the skeleton of a 'leap board' – a tower to allow keen athletic types to measure their jump reach from a standing start – a concept so popular on its first outing that the company has since made several more for different clients.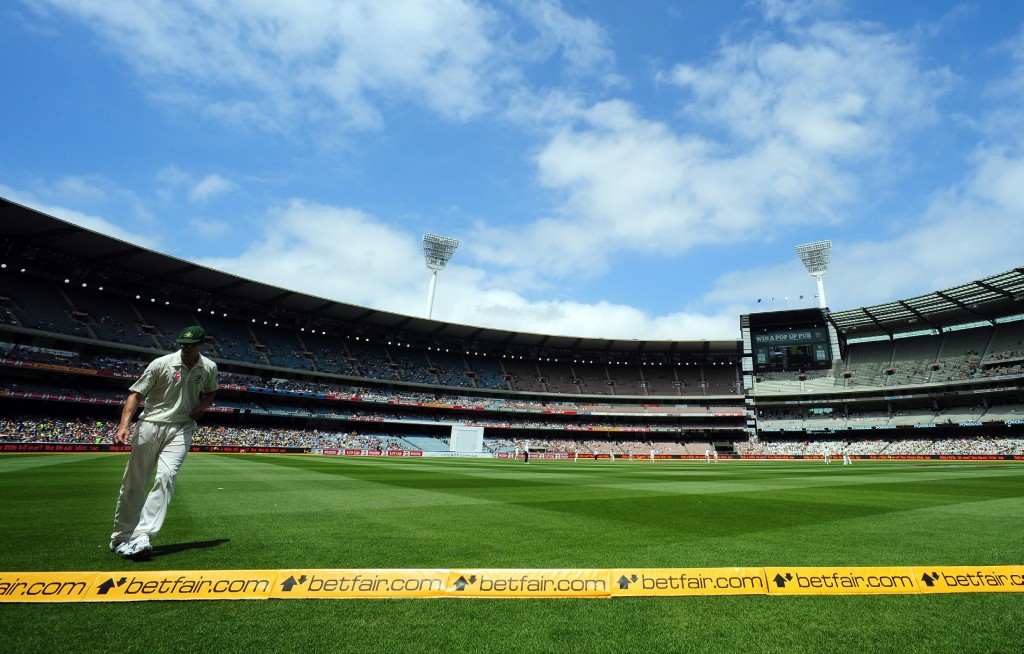 Custom made branding 
That one snapshot provides a good indication of the variety of work handled by this rapidly growing business – and also gives an insight into the 'experiential signage' for which the company has made its name. Pamela explains, "We don't really think of ourselves as a signage business, we see ourselves as creators of custom-made branding solutions which help our clients engage with their market at particular locations and events."
Most of these solutions are custom-designed by Leigh, who founded the company in 1988, to meet often complex briefs from clients who read like a 'who's who' of venues, business, sport and the arts – in fact, if you've ever attended the MCG, Etihad Stadium or Federation Square in Melbourne for AFL games, cricket matches or artistic and cultural events, chances are you've already experienced their work.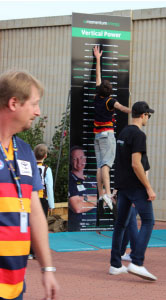 "We have very long term, close relationships with our clients; we genuinely work as part of their team, collaborating on what they want to achieve before devising a solution," Pamela explains. "At a large event, that might include everything from capturing people in a carpark or arrivals area, leading them through to our client's area and then helping to create a memorable experience for them at the destination; in other cases, it might be as simple as wrapping some cars, printing a glass splashback for their office, or creating a backdrop for a sporting event or exhibition."
Enthusiastic Talented Teamwork
While the power of digital inkjet print – done on the company's Mimaki JV5 solvent printer and via strategic alliances with other partners – provides the technical base for much of the company's product range, the quality of the company's work is credited mainly to their seven staff and several contractors – an enthusiastic, talented and multi-skilled team of professionals who put Leigh's innovative design responses into action.
"There's no question, Leigh is the creative powerhouse who drives everything we do," says Pamela, "and then we are fortunate to have great people who can take his creative solutions on board and translate them into reality."
Leigh, a man of few words, accepts the recognition graciously – but in turn gives credit to Pamela who, he says, has helped turn the business around since joining as a director in 2009 after a successful career in the Film and TV industry.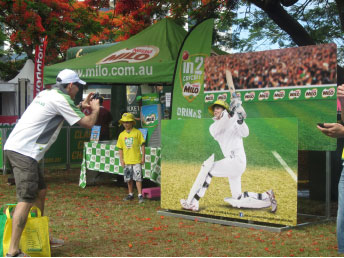 "Before Pamela came on board, I was like many business owners who are good tradespeople but not necessarily great at running a business," he acknowledges. Indeed, the couple report that they have quadrupled turnover in the past four years, largely by following the old adage that 'you have to work ON the business as well as IN the business'.
"I think it's a common trap for tradies to think that if you can create a good product you can run your own business," Leigh says. "Coming in from outside the business, and the industry, Pamela was able to identify things which were right under our noses that were holding us back, help set goals, identify the clients and work which are the best fit for us and introduce professional marketing to keep us 'top of mind' with our clients."
Skill, talent and commitment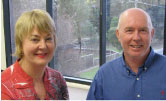 'Fresh eyes' notwithstanding, Pamela took time to make any major changes. "It's important to value what is already being done and the skill, talent and commitment that was already here was amazing," she remembers. "Over time, however, we were able to get a clearer view and realised we could create an environment which would help us work more easily, productively, creatively and profitably."
Starting with small tasks – "The first thing I did was organise for the leaky toilet to be fixed!" she admits – Pamela and Leigh gradually began to formulate a vision for the future and then began to implement changes which would help them 'build the business they wanted to be in'.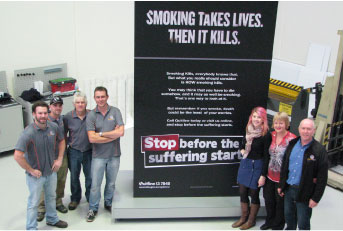 "It's about being 'goal driven and task focused'," Pamela says. "We knew where we were going and then we worked our way through every aspect of the business, from facilities, computers, business processes, staff amenities and uniforms, to corporate branding, marketing and communications. At the moment we are working with our staff to restructure, so that they enjoy their roles more and we get the best of their talents and abilities – there is the potential for every person to be magnificent and we want to invest in our staff to help them achieve that potential."
While it sounds like a lot of change – and significant investment – Pamela says it's not been a relentless march forward. "It's important to allow time for consolidation, both financial and personal, because change always imposes challenges on people and resources. The bottom line is that we want to do what we love and meet our client's requirements… and we have to build a strong foundation to do that."
As the magazine deadline drew near, I rang to check some details with Pamela and caught her on the hop. She and Leigh were packing overnight bags while their staff loaded the giant cigarette pack into the Stadium Signs truck for an overnight trip to Sydney, where they'd be assembling it for a client's 7am breakfast meeting. The extra mile again, I commented – to which Pamela just laughed.
"We understand how our clients feel and how important these things are to them," she said. "Our worst nightmare is not meeting a client's expectations so delivering it ourselves gives everyone peace of mind. We'll take it up, assemble it for their meeting, cheer them from the sidelines, then pack everything up and bring it back to Melbourne. Maybe that's our point of difference!"